A Privately held Photography Archive based in Washington State located in the Pacific Northwest region of the united states of America.  It is the largest privately owned photographic archive of this region
 containing tens of thousands of original negatives, photographs and related materials dating back to the 1860's.  
​​​​​​​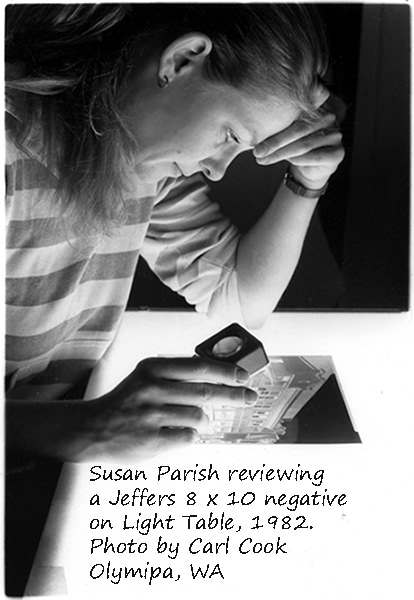 ​​​​​​​
 ~ Susan Parish is Owner & Curator ~ 
Ms. Parish, born Susan Plantenberg, born in Olympia, Washington, is a multi-generational native of the southern Puget Sound region of Washington State.  She began making and collecting photographs as a child in the 1950's and has been a working professional in the fields of communications and the humanities - specializing in photography - since 1975.  While working on the history of Early Women Legislators of Washington in 1980, she discovered that photographs of old photographic studios were regularly destroyed, and the state of Washington had no Photographic Archives in place.  Seeing the passing of a way of life in the PNW ~ Her life's mission of preservation and education honoring the photographers, their art and teaching using visual communication began and continues to this day.
​​​​​​​
The SPC reflects and celebrates the vital role photography plays in our image-based culture as a communication tool, an expressive medium, as primary documentary records and of course, as artistic expressions of the photographers. 
The SPC encompasses the full spectrum of the photographic medium including materials and documents related to the history and process of this communication and art form as an important adjunct to its holdings tracing the entire history of photography including its aesthetic movements and technological advancements as an asset for the community and future generations.  
​​​​​​​
The SPC documents the natural and cultural landscape reflecting parish's curatorial tenet that "photographic objects are invaluable to the study of the environmental and cultural history and must be preserved as future generations will continue to study them to discover and share histories yet untold - or, erroneously taught in the past."
While the full collection illustrates a complex and varied history, its major areas of strength are within the dates 1914 – 1970.
Although most photographs contained in the SPC are of Washington State, there are photographs and negatives taken in twenty other states and twelve other countries.  Included are photographs of Alaska, including the Gold Rush era, Oregon, Idaho, Arizona, California, etc. and Africa, Canada, Japan, Mexico, Tahiti, France, Italy, an
​​​​​​​
d Spain. And the photography of over one hundred photographers.
the Subject Matter of images within the SPC is extensive ~ with the common themes associated with the Pacific Northwest; its natural environmental and cultural landscape is well represented as built

 environments and archaeological heritage form an important learning tool and provide beautiful artwork for just pure enjoyment.
pristine landscapes showing old growth forests and logging, railroading, seascape

s and soaring mountains, steam ships and tugboats, dusty main streets of emerging cities, portraits of native Americans and multi-cultural pioneers.  recreational activities such as skiing, hiking, fishing, hunting, as well as many historical events of national note
.
Shadow Catchers is the sole distributor of photographic based products using images from The Susan Parish Collection of Photography.